Having broad shoulders is like winning the genetic lottery! Women blessed with broader shoulders have a remarkable advantage in pulling off diverse looks because there are tons of clothes and dresses for broad shoulders. While broader shoulders commonly align with the inverted triangle or strawberry body shape, it's not a strict rule.
Some Tips to Pull Off Your Broad Shoulders
Let's explore essential tips to master dressing for broad shoulders, ensuring a well-balanced and flattering silhouette.
Necklines
Let's delve into the top-notch necklines perfectly suited to complement your broad shoulders. The key is to focus on clothing details around the upper body when you're graced with broad shoulders. When choosing tops for broad shoulders, it's crucial to prioritize balance in this area to achieve a harmonious look.
Top Picks:
Curved scoop
V-neck styles
Single-shoulder designs
Halter cuts
Beginning with the curved scoop and V-neck options—these selections play a pivotal role in creating equilibrium for your upper body, preventing your shoulders from appearing broader than they are.
Sticking to V-neck and scoop necklines draws attention to the body's center, fostering a more proportional appearance.
While there are myriad neckline options for experimentation, the go-to choices, when in doubt, are the V and scoop necklines for accentuating broad shoulders.
The halter neckline works wonders by segmenting broader shoulders, minimizing their prominence.
Opting for an asymmetrical neckline like one-shoulder tops or dresses effectively diminishes the impact of broad shoulders, achieving a more visually balanced look.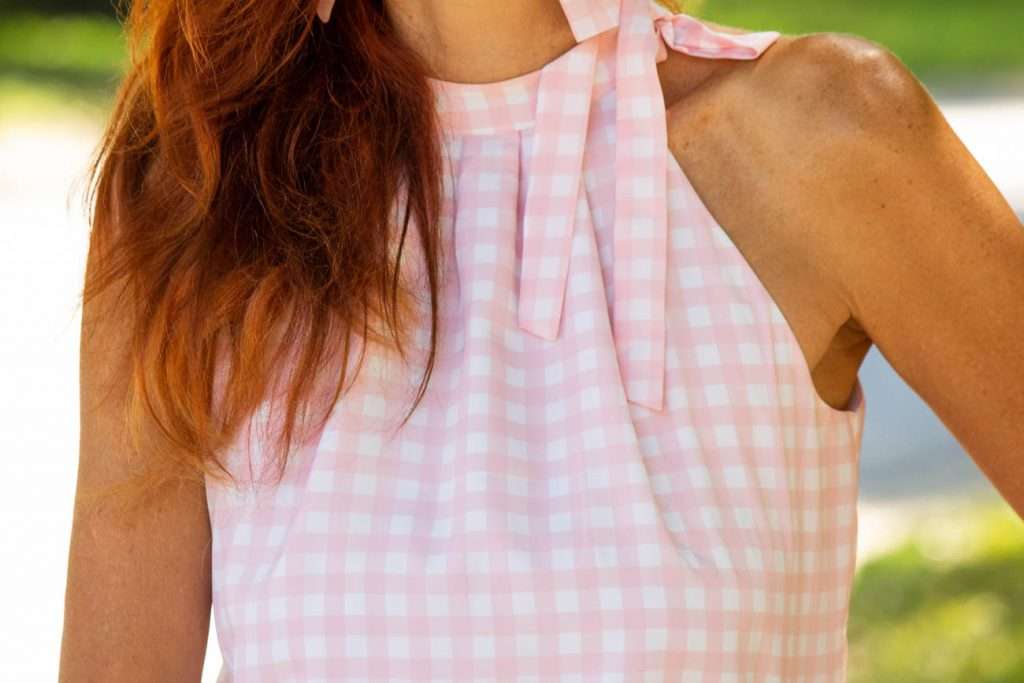 Dresses
Looking for the best dresses for wide shoulders (and, honestly, any body type) involves a synergy of various tips and techniques. The factors highlighted earlier will significantly influence your dress selection to enhance your broad-shoulder figure. Don't overlook the insights mentioned above!
Now, setting aside the previously discussed strategies for dressing broad shoulders, let's zoom in on dresses more specifically.
Thankfully, broad-shouldered figures have a range of dress silhouettes to embrace. Among the go-to silhouettes I consistently suggest for those with broad shoulders are:
Fit and flare
A-line
Wrap dresses
Sheath styles
Fit or flare?
Fit and flare dresses serve as an ideal choice for broad shoulders due to the voluminous skirt detail, offering a splendid balance that flatters your figure.
Shifting attention towards the bottom half of the dress works wonders in achieving this equilibrium!
Similar to the effect of peplum tops mentioned earlier, fit and flare dresses are recommended for broad shoulders due to their often understated necklines and well-defined waist areas—both factors ideal for complementing your body shape.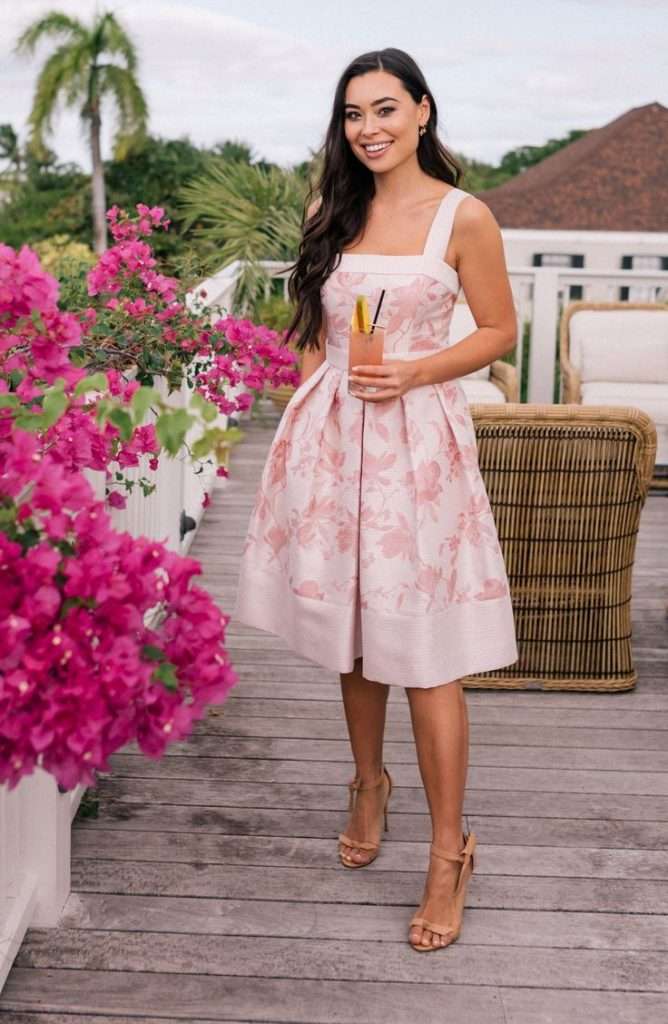 A-line dresses
These factors collectively contribute to why a-line silhouettes are advantageous for broad shoulders. While these two silhouettes share similarities, their subtle differences prompted me to highlight both for your consideration.
Are wrap dresses okay?
They offer a myriad of fantastic features that complement the figures of most women. These include an alluring open V-neckline, a well-defined waist, and a fabric that skims the body without the constraints of bodycon-tight attire.
These are precisely why I hold them in high regard for broad shoulders. These attributes, coupled with the snug fit around the shoulder region, significantly contribute to their appeal.
I previously highlighted the flattering nature of V-necklines for broad shoulders, and the snug yet comfortable fit of wrap dresses provides a dual advantage by hugging the body throughout.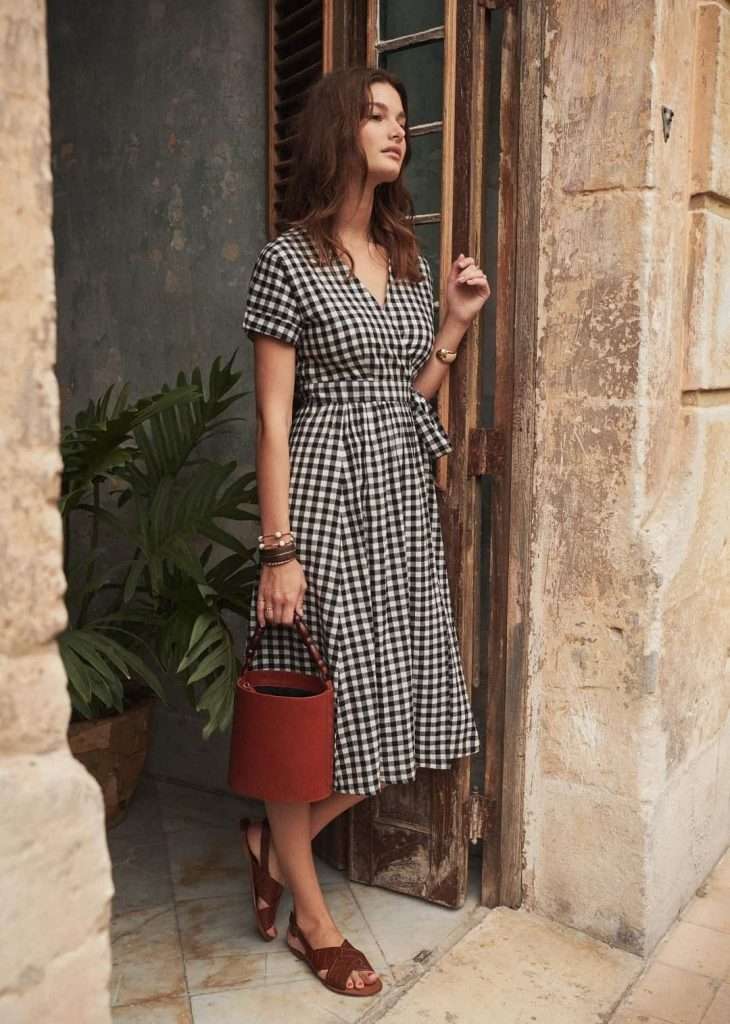 Don't wear spaghetti straps
To create a more proportionate appearance and divert attention from your broad shoulders, it's best to avoid opting for spaghetti straps.
A frequent mistake I notice is women with broad shoulders wearing dresses featuring very thin straps, which does little to flatter their figure.
The issue lies in the stark contrast these slender spaghetti straps create against your shoulders, accentuating them further.
So, as you navigate your styling choices, remember to keep this in mind and enjoy experimenting with your looks!
Tops
Here's a key detail for all the fabulous broad-shouldered ladies: opt for tops that incorporate detailing or volume at the lower portion.
This clever choice diverts attention from your broad shoulders, creating a visual equilibrium within your silhouette. Essentially, the aim is to shift focus from your shoulders to your lower body.
Peplum tops serve as an excellent option to achieve this effect, offering volume precisely at the peplum area. They not only redirect attention but also add definition to the waist—a crucial aspect when dressing broad shoulders, as it further shifts the focal point away from the shoulder region.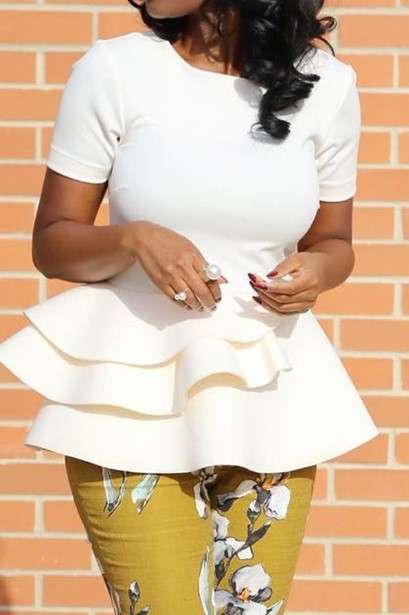 Avoid padded shoulders
It's crucial to avoid tops, jackets, blazers, or layered pieces with overly defined or tight shoulders.
These items, with their constricted shoulder designs, not only pose fitting challenges for broad shoulders but also lack in the flattering department.
Blazers and jackets, in particular, heavily rely on a slim fit around the shoulder area, which isn't the most accommodating for broad shoulders. This style doesn't work in your favor if the aim is to reduce the appearance of broader shoulders.
In essence, these types of blazers and jackets tend to accentuate rather than diminish the appearance of broader shoulders.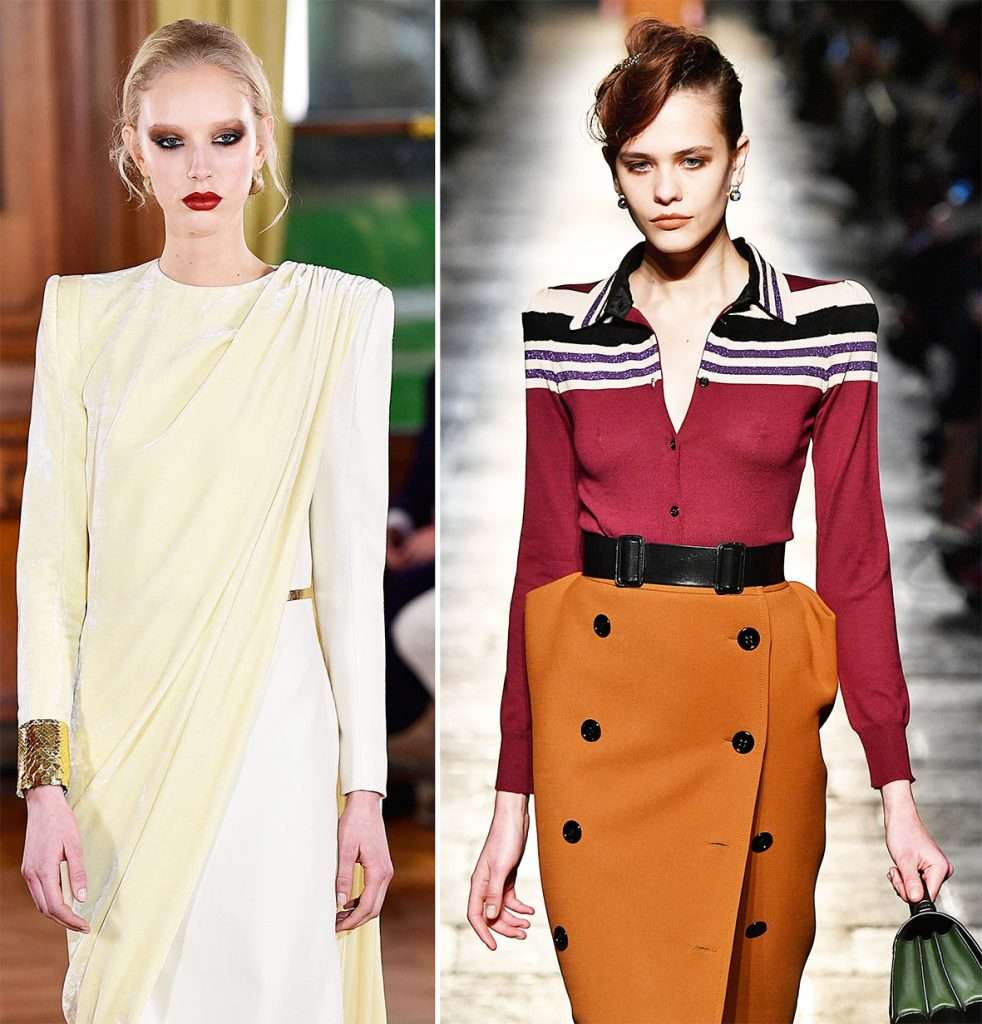 Be careful with statement tops
While statement tops are enjoyable, achieving a balanced shape involves redirecting attention to your lower half rather than the top.
It's not that statement necklines are off-limits, but as a general rule, the primary focus of your outfit should constantly be on the lower half of your body.
You can accomplish this through various means, such as opting for a full skirt, vibrant high-waisted trousers, and other similar strategies. The key here is to shift the focal point downwards.
This tip stands as one of the most crucial to create the illusion of smaller-looking shoulders.
Choose the Best Clothes that Compliment YourBroad Shoulders as a Female
Enhance your style game by harnessing the power of tailored fashion for broad shoulders! From chic necklines like V-necks and halter cuts to the grace of fit and flare or A-line dresses, discover the art of dressing to flatter. Embrace clothing details that shift focus, avoid narrow straps and overly defined shoulders, and master the balance between top and bottom wear. Elevate your look and confidence—unlock the secrets to a well-proportioned, flattering silhouette for those remarkable broad shoulders!