People who enjoy eating are really lucky in New York City because it's becoming one of the top cities worldwide for Asian food. This is because lots of different people live here, and also because of Instagram, which has shown off the best Asian restaurants in NYC. This has made these places much more popular than they used to be.
Here's our ultimate list of the top Asian restaurants in NYC. These are recommendations from experts who have dined out in most, if not all, of them!
Find Your Next Favorite Asian Restaurant in NYC
From the best Asian fusion restaurants in NYC to authentic Japanese ramen, below are our top picks:
Raosu Hotpot & Sushi
Raosu Hotpot & Sushi stands as one of the freshest Asian fusion eateries in New York City. It's one of the best Asian restaurants in Manhattan, which is deeply committed to melding classic Asian flavors with contemporary cooking methods, crafting inventive tastes that will enchant your taste buds. They specialize in two culinary worlds: the time-honored hotpot and the delicate art of sushi, presenting a range of choices to cater to your preferences.
Whether you're seeking a dine-in experience, home delivery, or takeout, they can accommodate your needs. We firmly believe that food should be both scrumptious and easily accessible, so they're dedicated to offering our patrons the finest ingredients and impeccable service, setting them apart from many other dining establishments in NYC!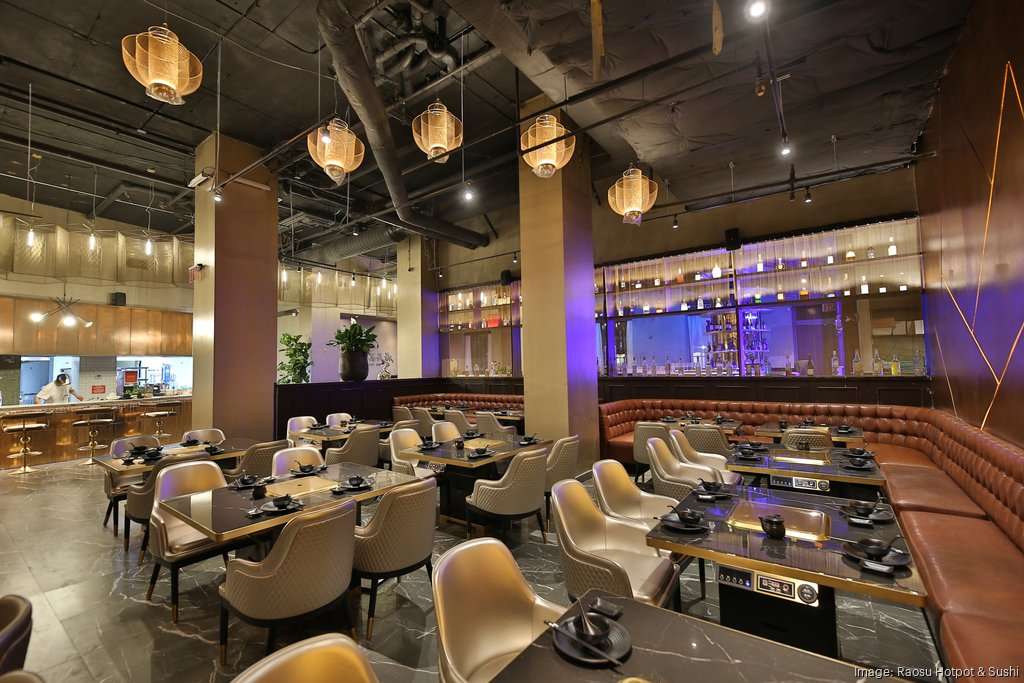 Momofuku Ssäm Bar
David Chang's restaurants are a big deal in New York City, and one of the most special places is Momofuku Ssäm Bar on Pier 17. This stylish and simple restaurant is one of the top Asian eateries in NYC.
Ssäm Bar is known for its tasty pork buns and amazing fried duck, which made David Chang famous as a top chef in New York City a while back. The atmosphere and the delicious menu always make customers happy. (Keep in mind that the menu changes every day, but they sometimes bring back the most popular dishes.)
Adda
Adda Indian Canteen is a cool and modern Indian restaurant in Long Island City. Its name, Adda, means "a place where people hang out." In 2018, The New Yorker magazine said it's one of the best restaurants, and it's easy to see why. In a city that didn't have many great sit-down
Indian restaurants until recently, Adda offered strong and interesting flavors with a trendy design. The bright tables and Hindi newspapers on the walls give the place a chic and authentic feel. (The owners of Adda are also doing something new with virtual reality dining at the James Beard House, but that's a different story.)
Adda serves traditional Indian dishes and hearty bites that are hard to find outside India. They have special dishes like bheja fry (goat brain, not for those who are easily scared!) and biryanis served with traditional naan bread caps.
Sei Less
Hidden behind a mysterious painting in Midtown, you can find Sei Less, a brand-new Asian fusion restaurant. It's super close to Madison Square Garden and the Garment District, making it the new popular place that everyone will be talking about. This restaurant is all about great food and a unique atmosphere. It has space for 350 guests, with modern art and clean lines, mixed with traditional Asian designs like the old pagodas.
They have a special menu with food from different parts of Asia, and they also make unique cocktails. If you don't drink alcohol, they have special non-alcoholic drinks too. And if you have a private party or event, they have four private dining areas to make it extra special.
Ivan Ramen
Ivan Ramen became really famous after it appeared on Season 3 of the Netflix show Chef's Table. This show shared the inspiring story of a chef from Brooklyn, Ivan Orkin, who's not Japanese but became a master of making ramen after facing many challenges and running his restaurant in Japan.
Now, Ivan Orkin has a lot of fans in New York, where he lives again. So, in simple words, Ivan Ramen is one of the top Asian restaurants in NYC because it already proved itself in Asia.
Antoya
Antoya is one of the very first Korean BBQ places in South Korea. They've been serving barbecue since 1976, sticking to the old ways for over 42 years. They've passed down their barbecue and Korean food recipes from one generation to the next to give you a real and high-quality Korean dining experience. They only use the best ingredients and follow the authentic Samwon Garden recipes. So, come and try one of South Korea's finest traditional Korean BBQs at Antoya.
Fuji Hibachi
When you visit Fuji Hibachi, get ready for a super fun time with your friends, family, or co-workers. Our skilled chefs will make your meal right in front of you, and it's a real show! You'll see flames, your food will be cooked perfectly, and you'll have a great time. Plus, you'll enjoy delicious dishes made with the freshest ingredients.
At Fuji Hibachi, they take pride in our great service and yummy food. Their staff is friendly and always ready to assist with a smile. If you want an entertaining and tasty night out without cooking, Fuji Hibachi is the perfect place for you, your family, and your best buddies. You'll leave full and happy!
Pig + Khao
Pig + Khao is a great place for Filipino and Thai-inspired Southeast Asian food. The restaurant has a modern and simple design, with a nice outdoor seating area and a small menu. But the Crispy Pata, Whole Fried Fish, and Pork Belly Adobo are bursting with different and amazing flavors in every bite. The food looks so good that people like to take pictures of it for Instagram, and that's why it's on the list of the best Asian restaurants in NYC.
And since it's right in the middle of the Lower East Side, you can easily find a tasty dessert nearby (if you still have room in your tummy!).
Khe-Yo
At this Laotian restaurant, the meals are served in a family-style way, where you share dishes with your loved ones. Anthony Bourdain, a famous food guy, talked about this place in his show Parts Unknown. Khe-Yo, which means "Green" in Laotian, has a cozy and dark atmosphere. You can sit at the bar with exposed brick walls or at small tables, perfect for romantic dinners or big gatherings.
The chef and owner, Soulayphet Schwader, along with his partner, former Iron Chef Marc Forgione, use local, seasonal, and responsibly sourced ingredients for all the food.
To get the real Laotian-American experience, you should try the yummy Wok Seared Lobster & Noodles and the Berkshire Spare Ribs. People also love the Smashed Green Papaya salad and Bamboo Ginger Quail with Bang-Bang sauce and Gai-Lan.
If you like spicy food, they have a special Bang-Bang red sauce that they serve with rice at the beginning of the meal. It's a creative way to start your dinner at Khe-Yo, which is one of the top Asian restaurants in NYC.
Try Asian Restaurants in NYC and Get Your Tummies Full
Experience a culinary journey through the vibrant flavors of New York City's Asian dining scene. From the sizzling hotpot and sushi at Raosu to the traditional yet innovative offerings at Adda, the delightful surprises at Sei Less, and the inspirational stories behind Ivan Ramen and Antoya, there's something to satisfy every palate. Fuji Hibachi promises a captivating dining experience, Pig + Khao brings Southeast Asian delights, and Khe-Yo offers a taste of Laotian cuisine. So, embark on a gastronomic adventure, explore these top Asian restaurants, and savor the diverse and delectable dishes they have to offer. Your next unforgettable dining experience awaits in the heart of NYC!