Envision awe-inspiring landscapes, breathtaking glacier vistas, and magnificent encounters with wildlife, all converging to craft an unparalleled touring and hiking experience. Iceland undoubtedly emerges as an exceptional choice for planning your honeymoon. With meticulous preparation and a wealth of insider knowledge, rest assured that your upcoming Iceland honeymoon will etch unforgettable memories into your hearts.
For couples seeking either adventure or a tranquil retreat amid mountainous serenity, this Nordic island nation presents a splendid amalgamation of offerings. Whether your affection gravitates toward spellbinding natural marvels, jaw-dropping panoramas, or the calming embrace of azure waters, Iceland consistently delivers. By the end of your romantic honeymoon in Iceland, you may very well declare it a slice of heaven on Earth, and rightfully so.
How to Get there and Going Around
To begin your Iceland honeymoon itinerary, if you're coming from the US, the trip is only a short five-hour flight from New York. Keflavík International Airport has more than 20 different airlines flying in and out, making it easy for you to reach your destination. If you're traveling from Denmark, you might want to think about taking the Norröna ferry, which lets you bring your car along for your road trips in Iceland.
Opting for a car rental, particularly a rugged 4X4 vehicle, is your top choice for navigating Iceland with ease. The well-maintained roads offer smooth travels, but don't forget to stay mindful of speed limits to steer clear of any potential fines along the way.
Where to Stay
Your honeymoon won't be perfect without great places to stay. There are plenty of Iceland honeymoon resorts, whether you like being in the city or somewhere quieter and less crowded. Below are the top 3 we have chosen:
The Retreat at Blue Lagoon
Just a quick 20-minute ride from Keflavík International Airport and a 45-minute drive from the bustling city of Reykjavík, you'll find Grindavík town and the Retreat Hotel at Blue Lagoon. This hotel, with 62 suites, is in a beautiful place surrounded by very old lava craters and mossy plateaus. It has a simple Scandinavian design and is all about helping you relax and feel refreshed.
All the rooms don't have TVs, which makes for a super peaceful experience. Instead, you get to enjoy incredible views of Iceland's unique landscape. And here's the best part – the Retreat is right by the Blue Lagoon, in a private area of the UNESCO Global Geopark. You're right next to those famous Blue Lagoon waters!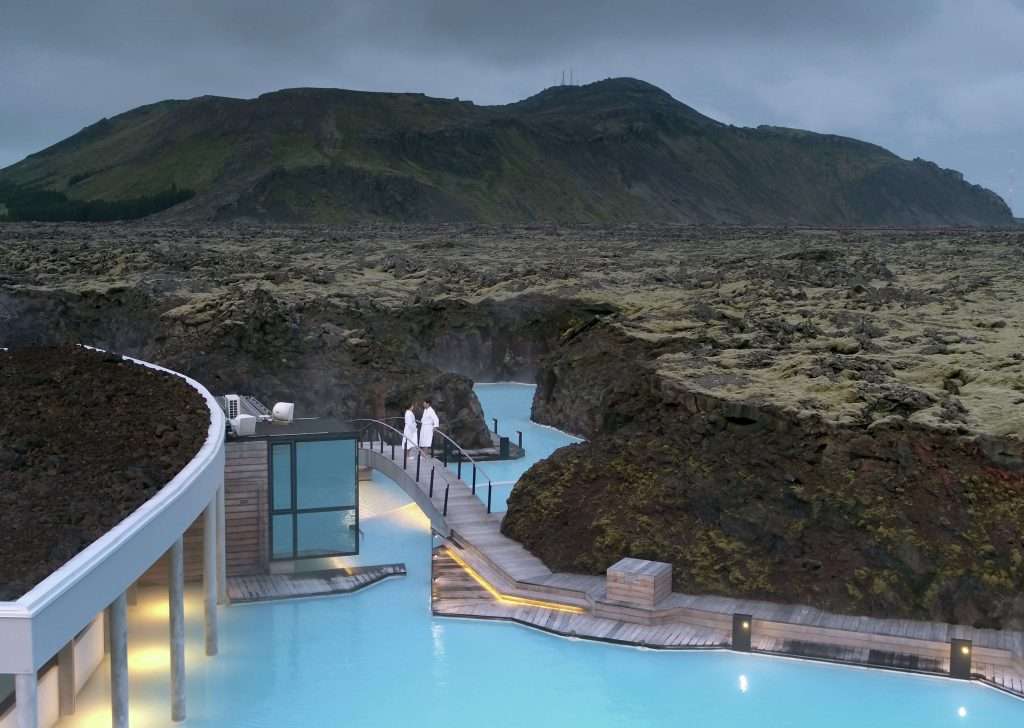 101 Hotel
Imagine staying in a cool boutique hotel right in the center of Reykjavík. The rooms are big but not too fancy, and there's a cool art gallery in the hotel with local art. You can relax in a spa or work out in a gym, and they even have a restaurant and a bar. It's the ideal spot to call home as you venture into the city during your romantic getaway. Simply step out of 101 Hotel, and you'll find yourself immersed in the vibrant heart of Reykjavík's bustling atmosphere.
Hotel Búðir
Just a two-hour car ride from Reykjavík is Hótel Búðir. This is a truly enchanting destination nestled in the heart of Iceland's western Snaefellsnes Peninsula. Every room boasts breathtaking vistas, whether it's the serene sea, the majestic glacier, the towering mountains, or the rugged lava fields. You'll also find one of Iceland's finest dining establishments right at the hotel, promising an exceptional culinary experience. They serve up delicious local food, fresh fish, and ingredients from nearby farms. Plus, since it's away from the busy city of Reykjavík, Hotel Búðir is a great spot to try and catch a glimpse of the Northern Lights.
Where to Eat
While you're in Iceland, try some of the local foods like Skyr, hot dogs (called pylsur), dried fish (Harðfiskur), and dishes made with fresh seafood. When you're in Reykjavik, check out Bergsson Mathus for tasty baked goods, and if you're into seafood, Fjoruborodid in Stokkseyri is a great spot. If you're near the Blue Lagoon, Bryggjan Cafe in Grindavik is just a 10-minute drive away. And if you want to experience a typical Icelandic bar, Islenski Barinn in Reykjavik is a good choice. Savor each bite and enjoy your favorite dishes!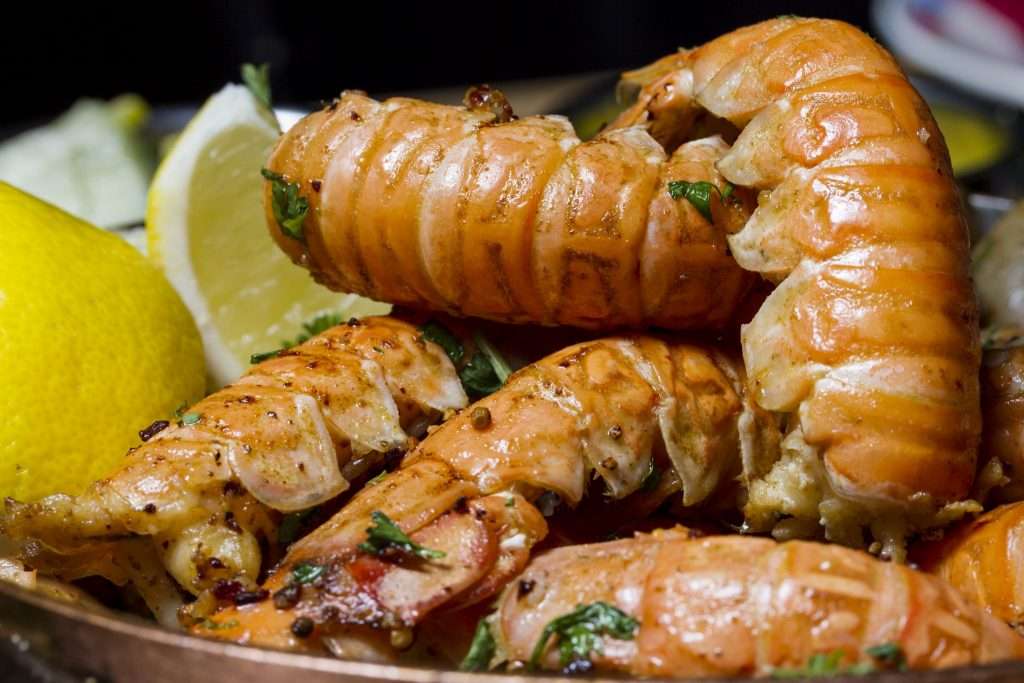 What to See and Do in Iceland?
After you land in Iceland, it's a good idea to chill out and get used to the place for a couple of days before you start your adventures in the amazing countryside. Here are some must-do things we suggest.
Seltjarnarnes
Seltjarnarnes is a town in northern Iceland. Why should you think about visiting during your Iceland honeymoon? Well, the answer is simple: the Northern Lights! There's nothing more romantic than watching those magical lights in the sky with your partner at night. This small town is far away from any pollution or bright city lights, making it the perfect spot to relax and enjoy the Aurora Borealis. There are plenty of hotels and cottages where you can unwind and take in one of the most beautiful sights in the world with your special someone while staying at romantic places in Iceland.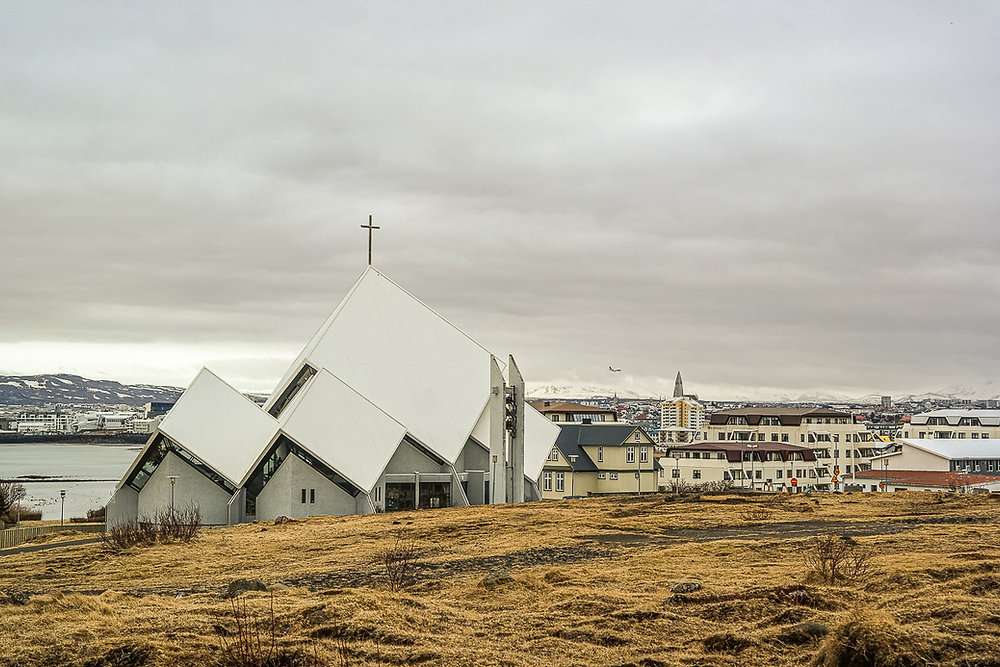 Black Sandy Beaches
You absolutely have to check out the amazing black-sand beaches in Reynisfjara. In the busy season, you might see lots of tourists trying to get the perfect photo. But let's be honest, how often do you get to see black sandy beaches like the ones in Iceland? Rarely. So, be sure to take a walk on the beach and capture some memories for your honeymoon album. These beaches are on the South Coast of Iceland, and they're black because of the volcanic activity in the area. The huge basalt stacks and the incredible views of the beach are something you definitely shouldn't miss on your trip.
The Blue Lagoon
Here's another amazing natural wonder in this gorgeous country: the Blue Lagoon. It's one of the top honeymoon spots in Iceland. This place is incredibly beautiful and unique. The Blue Lagoon is a natural hot spring, and it's pretty special. The water in the lagoon is naturally heated by the Earth, so it's like a natural spa, and it's a perfect spot for a romantic soak with your partner. The water is crystal clear and is said to have some healing powers. Imagine this: you and your partner, sitting in a warm spring, with snowy mountains all around you. A honeymoon in Iceland in December is a fantastic idea!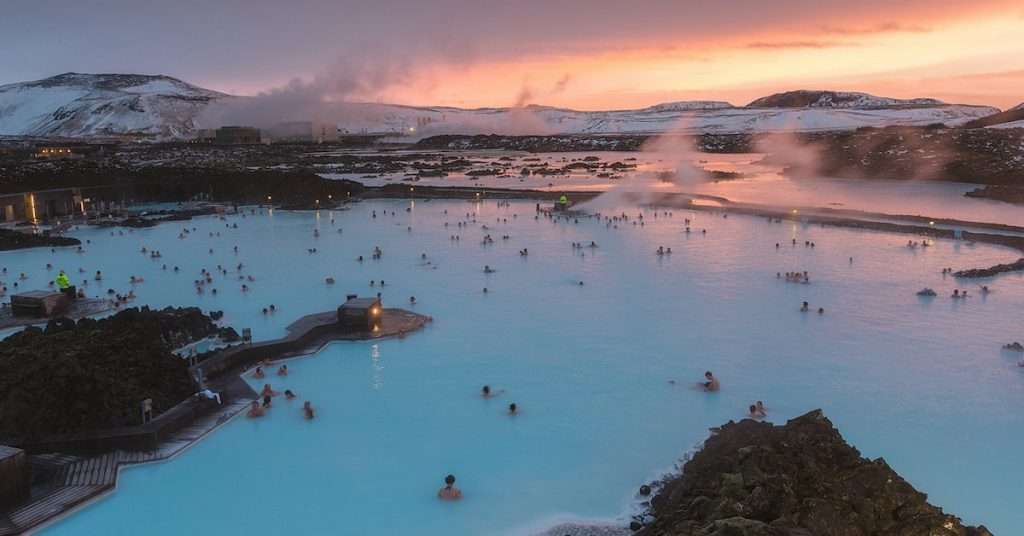 Mesmerizing Waterfalls
In Iceland, there are waterfalls all around. If you're on an Iceland honeymoon, you've got to explore some of the most beautiful and less-visited waterfalls. Be sure not to miss the captivating waterfalls of Goðafoss, Háifoss, Morsárfoss, and Dettifoss during your Icelandic adventure. Morsárfoss stands tall as Iceland's highest waterfall, while Dettifoss boasts the title of Europe's mightiest cascade, showcasing nature's awe-inspiring grandeur.. And don't forget Skógafoss, a special waterfall that starts from two glaciers, making it unique.
Begin Your Iceland Honeymoon Today
From the mystical allure of the Northern Lights in Seltjarnarnes to the dramatic beauty of black sand beaches in Reynisfjara, Iceland offers an array of enchanting experiences for your dream honeymoon. Explore cascading waterfalls, unwind in the rejuvenating waters of the Blue Lagoon, and savor local delicacies. Whether you seek adventure or tranquility, Iceland has it all. Don't wait; plan your Iceland honeymoon today, and let this Nordic wonderland become the backdrop for your cherished memories as you begin this new chapter together.