There are regular dresses, and then there are super special ones. The super special ones are the ones you don't forget, even long after you've seen them on famous people at fancy events or in movies. Some of them stick in your memory because they're really pretty, and some because they're just really strange. But for whatever reason, these iconic dresses in movies have become a part of history.
8 Iconic Movie Dresses
Marvel at eight of the best movie dresses that made a mark in Hollywood:
Jean Harlow in Dinner at Eight (1933)
Imagine you're transported back to the golden era of Hollywood, and you're watching the iconic Jean Harlow in her role as Kitty Packard in the movie "Dinner at Eight." In the movie, she's donned in a captivating caped silk slip dress, and draped elegantly around her shoulders is a luxurious white fur stole. It feels like this dress could have been plucked straight from the glamorous wardrobe of the starlet herself. It's a moment where the character and the actress seem to merge seamlessly, epitomizing the timeless allure of Hollywood's original blonde bombshell, Jean Harlow.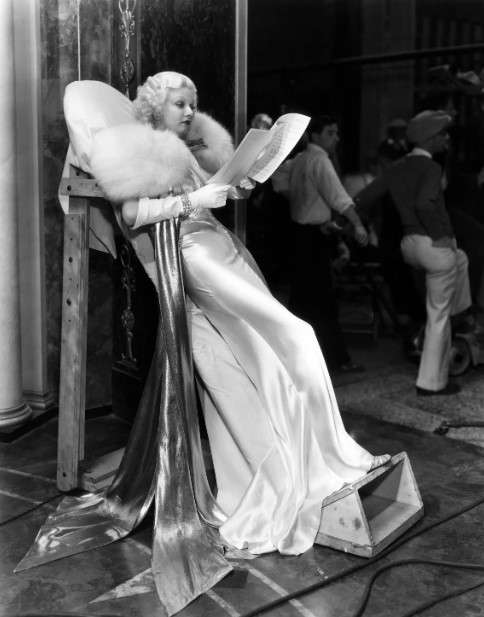 Keira Knightley as Cecilia Tallis in Atonement (2007)
This emerald green silk gown is a creation of the talented costume designer Jacqueline Durran, graced Keira Knightley as she portrayed the character Cecilia Tallis in a pivotal scene from the 2007 film "Atonement." What makes this dress truly exceptional is Durran's unique approach. Despite the film's 1930s and 1940s setting, she drew inspiration from both the 1920s and 1930s fashion eras. This creative blend captures the essence of the story's 'heightened perfection,' which unfolds through the memories of Cecilia's younger sister, Bryony.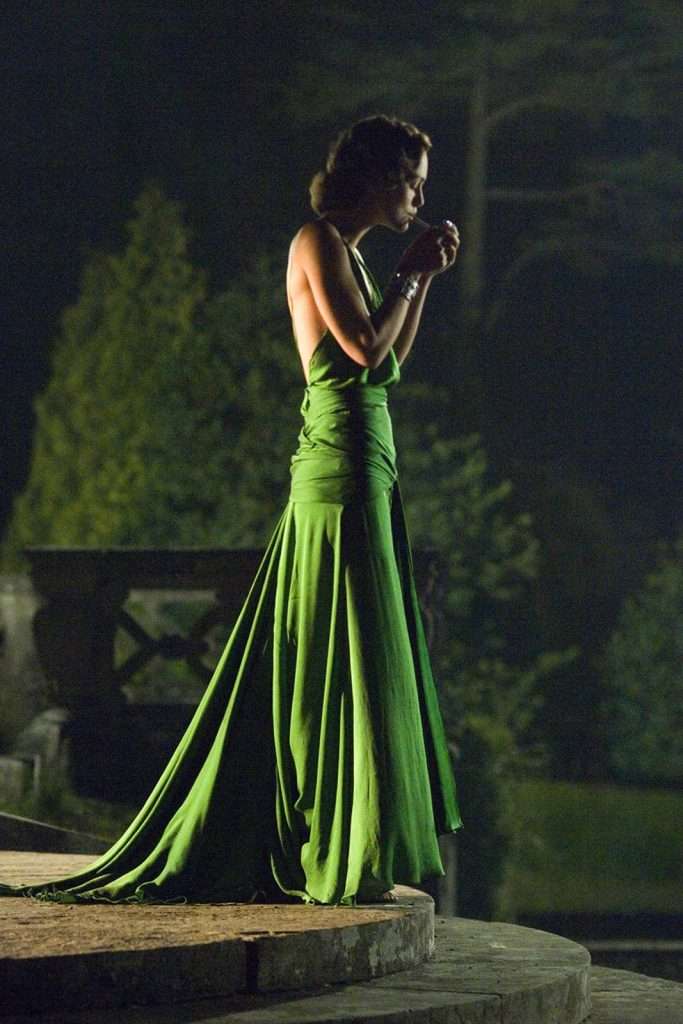 Judy Garland in The Wizard of Oz (1939)
Right after "The Wizard of Oz" hit the silver screen, Dorothy's blue and white gingham dress etched itself into the annals of film history, becoming an icon in its own right. It's not just any dress; it's a symbol of something truly special. This dress's enduring appeal is undeniable.
Even decades after its debut, it continues to make appearances every Halloween, with people of all ages and backgrounds eager to step into Dorothy's shoes. But why is this dress so timeless? It's not just a piece of clothing; it's a portal to a magical world filled with adventure, courage, and the simple yearning to find your way back home.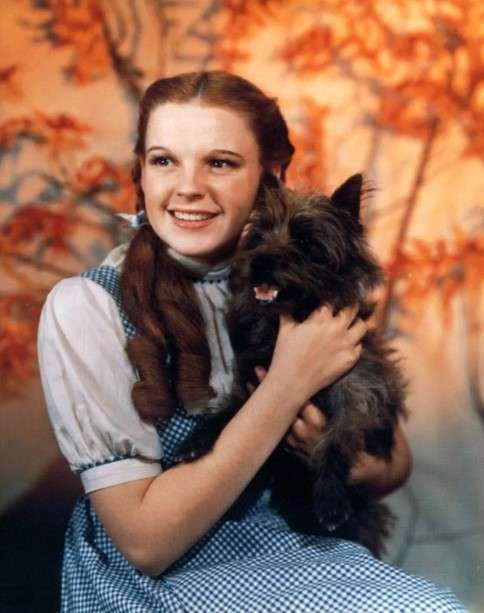 Kate Hudson in How To Lose A Guy In 10 Days (2003)
You may remember the mesmerizing buttercup yellow silk dress that graced Kate Hudson's silhouette in the movie "How To Lose A Guy In 10 Days." This dress, with its daring plunging back and gracefully fluid silhouette, immediately captured hearts and imaginations when the film hit theaters back in 2003. It became a coveted choice and a symbol of youthful charm. Dina Bar-El's creation not only adorned a character but also became a timeless embodiment of youthful dreams and the magic of cinema.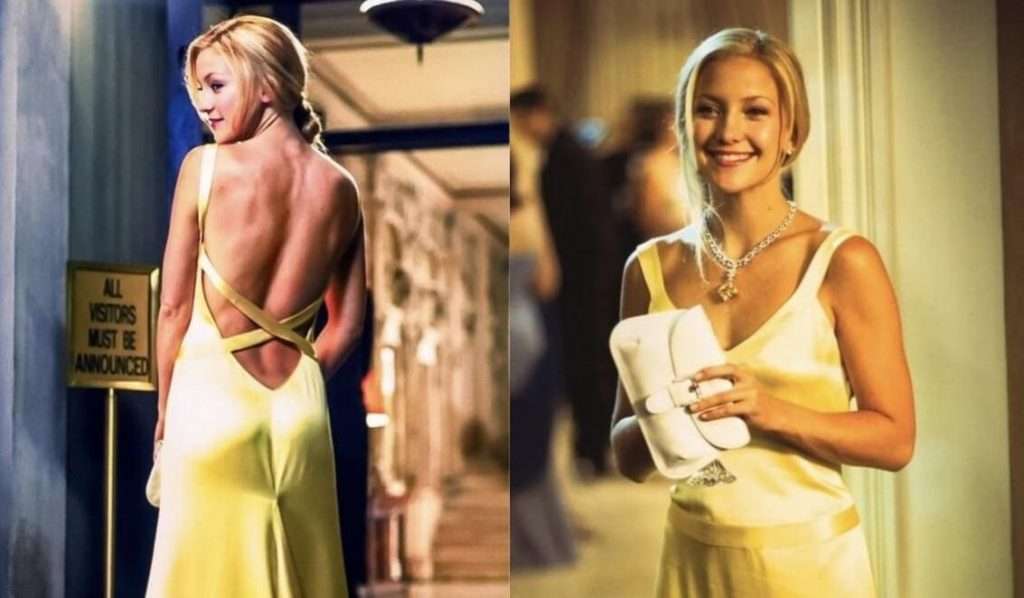 Vivien Leigh in Gone with the Wind (1939)
In Gone with the Wind, the legendary Vivien Leigh graced the screen as the unforgettable Scarlett O'Hara. Throughout the film, Scarlett adorned herself in a myriad of stunning outfits, leaving an indelible mark on cinematic fashion. One ensemble, in particular, stands out – her emerald-green velvet dressing gown.
This dressing gown is not merely a piece of clothing; it's a testament to the artistry of costume design and the power of storytelling through fashion. When Scarlett wrapped herself in that sumptuous emerald-green velvet, it was a visual feast for the eyes, a symbol of her inner strength and resilience. The rich, deep green hue was not just a color; it was a reflection of Scarlett's determination and fiery spirit.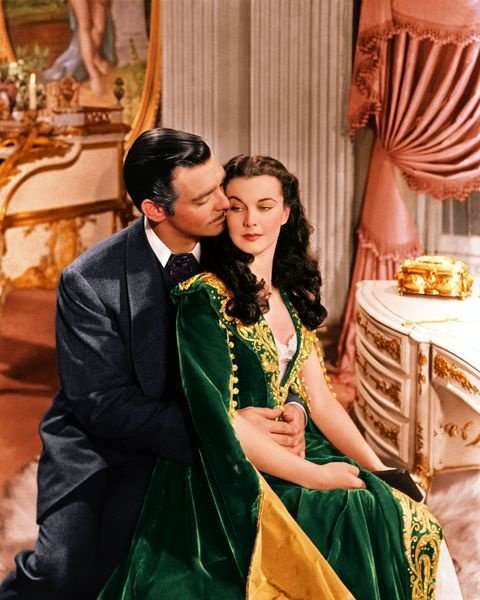 Marilyn Monroe in Gentlemen Prefer Blondes (1953)
The iconic Marilyn Monroe never fails to dazzle everyone with her unforgettable looks. Among the many iconic moments in her career, one shines brightly, and you can't help but recall it. It's the scene from "Gentlemen Prefer Blondes" where Marilyn, dripping in diamonds, takes center stage and belts out "Diamonds Are a Girl's Best Friend." But what truly steals the show is her hot-pink strapless evening gown, perfectly complemented by matching gloves.
This ensemble is more than just an outfit; it's a symbol of Marilyn's timeless allure and her ability to capture the hearts of audiences around the world. The hot-pink gown is a bold statement, a declaration of femininity and confidence. It encapsulates the spirit of the era and the glamor of Old Hollywood, reminding you of the enchanting power of cinema.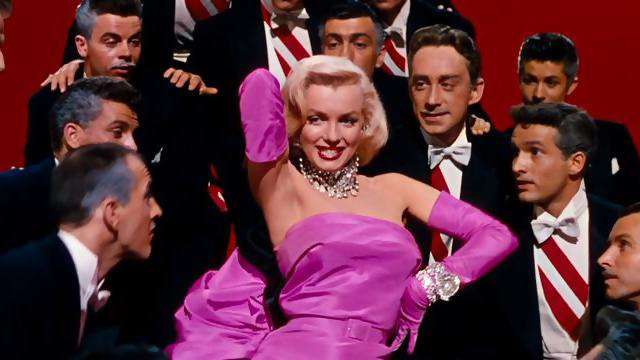 Sharon Stone in Basic Instinct (1992)
Think about that small white dress Sharon Stone wore in a really important scene in the movie Basic Instinct. You remember it, right? Well, it's famous for more than one reason (hint: something scandalous happened). Ellen Mirojnick, the designer, made this dress to show just how irresistible and sexy Stone's character, who's suspected of murder, could be.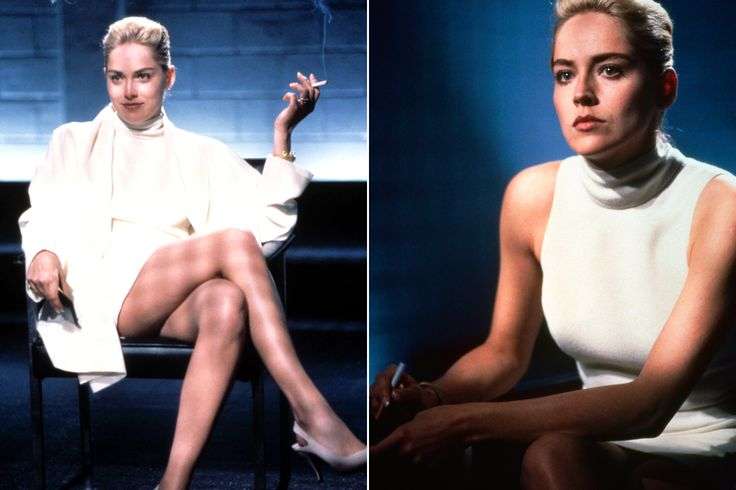 Grace Kelly in Rear Window (1954)
In Alfred Hitchcock's Rear Window, there's Grace Kelly playing the elegant Lisa Carol Fremont. She's dressed in a series of fancy outfits throughout the movie. But the most eye-catching and most iconic dresses in all her movies is the evening gown made by Edith Head. It's black and white, has a V-neck, short sleeves, and it tightens at the waist before flowing into a big tulle skirt. It's the kind of dress that steals the show.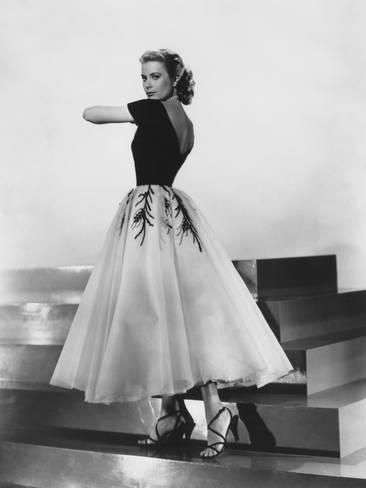 Discover the Most Iconic Dresses in Film Worn by Beautiful Actresses
Transport yourself into the captivating world of cinema, where iconic Hollywood dresses tell stories of elegance, allure, and timeless charm. These dresses aren't just fabric; they are symbols of unforgettable moments in film history. Marvel at the beauty of these iconic garments. Let them inspire you to embrace your own unique style and add a touch of cinematic magic to your life. Remember that fashion has the power to transport you to different eras and capture the spirit of Hollywood's golden age. So, go ahead, express yourself through fashion. Let these iconic dresses from movies be your guide to creating your own legendary moments.